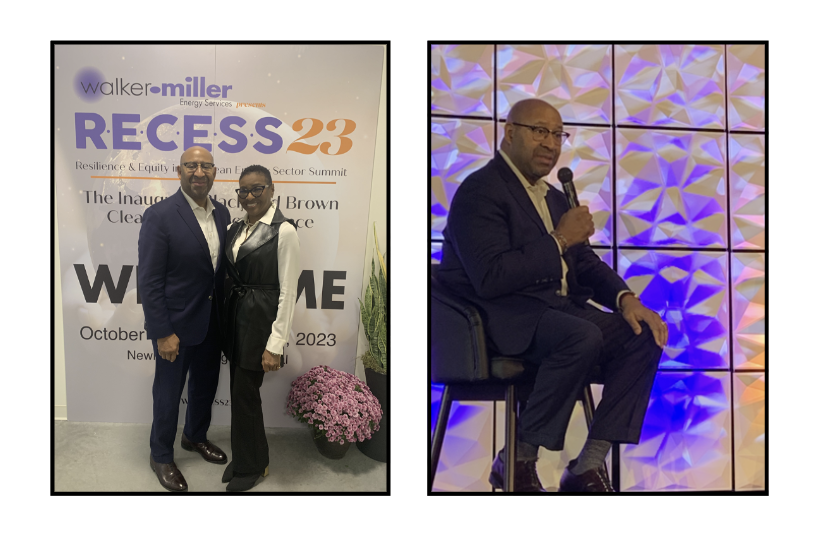 (Washington, DC) – Former Philadelphia Mayor Michael Nutter, member of the Natural Allies for a Clean Energy Future Leadership Council, participated in the inaugural Resilience and Equity in the Clean Energy Sector Summit (RECESS23) in Detroit, Michigan this week. The global summit gathered key energy industry players to amplify a clean energy vision centered in equity. The summit brought together Black, Brown and Indigenous leaders who are shaping the future of the clean energy sector.
"This is a historic moment for our leaders to be part of the national conversation around climate change and America's energy agenda," said Mayor Nutter. "We must adopt a pragmatic approach to reach our collective climate goals, recognizing that climate, reliability and affordability are all connected. But in doing so, we have an obligation to ensure that no communities are being marginalized as we build the cleaner energy economy of tomorrow."
"When we are talking about clean energy there are not many Black and Brown people in the room," said Carla Walker-Miller, founder and chief executive officer of Walker-Miller Energy Services, and host of RECESS23. "So, we created a conference that finally gives people of color a seat at the table. We hope to provide an empowering platform for Black and Brown leaders to spearhead positive change and open a gateway for those aspiring to join an industry where we are grossly underrepresented and have few organic connections."
At RECESS23, Mayor Nutter participated in a panel conversation entitled, Driving Equity while Decarbonizing Cities with Justine Johnson, Chief Mobility Officer, Michigan Office of Future Mobility and Electrification, and moderated by Kerry Duggan, founder and CEO, SustainabiliD. Mayor Nutter spoke with Duggan about the unique challenge of balancing energy access and affordability with sustainability. He noted that while natural gas may not be the most popular solution among all the audience members at RECESS23, it is a critical resource along with renewable energy, to ensure reliability and affordability for all communities, particularly underserved communities.
Leaders in the Black community for years have recognized natural gas as a low-cost, reliable energy source that can provide stability to communities in need, and expanding natural gas infrastructure has been championed by Rev. Jesse Jackson. Natural Allies for a Clean Energy Future has been among the voices advocating for equity in the pursuit of climate goals.
"For far too long communities of color have been ignored and largely underrepresented when it comes to the issue of energy. We must center Black and Brown voices to drive meaningful, long-lasting change," added Mayor Nutter. "We need to be serious in this conversation and understand that natural gas, in partnership with renewables, is part of our transition to reach our climate goals more quickly."
###
About Natural Allies for a Clean Energy Future
Natural Allies is a 501c4 not for profit organization that seeks to better inform the public and policy makers about why natural gas is best partnered with renewable power sources to accelerate our clean energy goals. Among the industry leaders supporting Natural Allies for a Clean Energy Future are: The Williams Companies, Kinder Morgan, TC Energy, EQT, National Fuel Gas, Enbridge Inc., Solar Turbines a Caterpillar Company, Quanta Services, Inc., the United Association of Plumbers and Pipefitters, International Brotherhood of Teamsters, International Union of Operating Engineers, Pipe Line Contractors Association, American Pipeline Contractors Association, Interstate Natural Gas Association of America (INGAA), INGAA Foundation and American Public Gas Association (APGA). To learn more visit: naturalalliesforcleanenergy.org.